Pechblenda
Jump to navigation
Jump to search
|- |Hackteria Kitchen
Subscribe here
General discussions, questions, news and info surrounding all topics about Open Source Biological Art, DIYbio, hackteria related events, tardigrade hunting, Art/Science, lasers, DIY microscopy, synthetic biology for artists, KitchenLabs, fungi, BioHacking, DIY fermentation, BioElectronix, workshops and labs...
Main maillist for all former participants of workshops and labs, who want to stay in contact with the network.
See the archives (Aug - Sep 2011) of the old Lab2011 list here
|- |Cuisine
Subscribe here
The cuisine list is specifically focused on bringing together people active in Switzerland, communicating various events happening in the region and discussing collaborations between the upcoming initiatives.
The topics are not limited... but mostly focusing in DIYbio, bioart, biohacking, citizen science, DIY microscopy, synthetic biology, Art/Science, community labs and beyond.

|- |General News and Info Newsletter
Subscribe here
Only outgoing mails by editors, 4 times per year.
|- |admin Maillist
|}
Hardlab TransHackFeminista - lab0rat0rio experimentaci0n bio-electr0-química - Manifesto
Sick of the filthy dust, montonous and boring, of stagnant, unbreathable, competitive and excluding environments, of semi-free information which is actually totally controlled, power and decision of hunched up egocentric and infantile machos. Tired of repressed, impenetrable and homogenous bodies, we are resetting and migrating our bodies, modificable codes, lubricated and fluid, far from this sad landscape.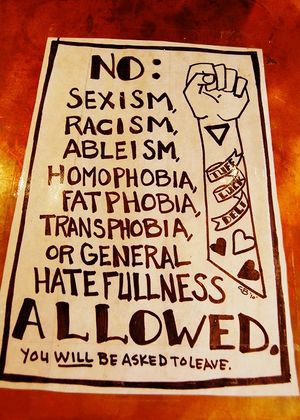 In Pechblenda macho attitudes, assistentialism, invasive and patriarchal behaviors are NOT welcome.
 "I don't believe in "gender violence", 
  I think that gender itself is the violence, 
  that the norms of masculinity and femininity,
  as we know them, produce violence." 
  Beatriz Preciado - OMINIA MEA MECUM PORTO

HLAB2014 JOGJA
HLAB2014 Workshop Propousals
HLAB2014 Research
HLAB2014 26 audioPerfos
Experiments, experiences, prototypes, developed and developing projects related to a very important issue for our lab: FLUIDS
"No puedes pensar en salud sin pensar en el río." zapatista thought

mini-residencies